The bride always steals the show on her wedding day. And the colour of her saree is just as important as her wedding glow! So, let's talk bride fashion then.
Colour is fashion's best friend. Choosing the right colour for your wedding is of the essence!
But, this process can be confusing and overwhelming for a bride-to-be. God knows (and we know) that she does not need any more of that on her plate. So, we're here to help!
We've put together a few things to keep in mind while you choose the right saree colour for your wedding. Read on to find out!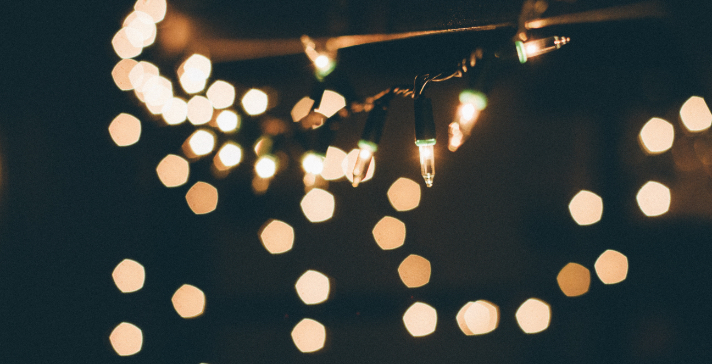 Is yours a radiant morning ceremony? Or a pleasant evening one?
All weddings are beautiful but in their own way. And in their own time of the day! Some cultures celebrate the beginning of forever bright and early at the break of dawn and some in the wee hours of nightfall.
Evening colours
The colours that look absolutely resplendent post-dusk are ones that lie on the darker side of the colour palette. Deeper shades of purple or green appear stunning at this time of the day, especially on a Kanchivaram silk since it has silver and gold zari woven through it that make you shine through your grand evening!
Day-time colours
The morning colours for a Kanchivaram saree are shades like orange-pink, white, yellow and light green. These colours go perfectly well with the yellow tinge of sunlight and make for the perfect wedding pictures!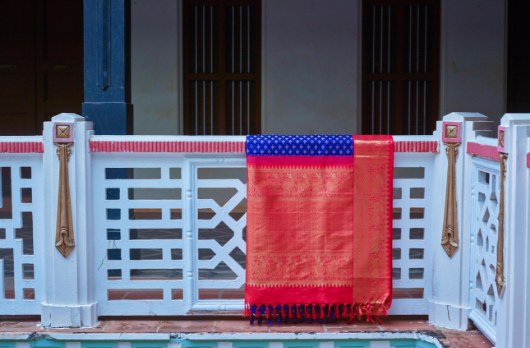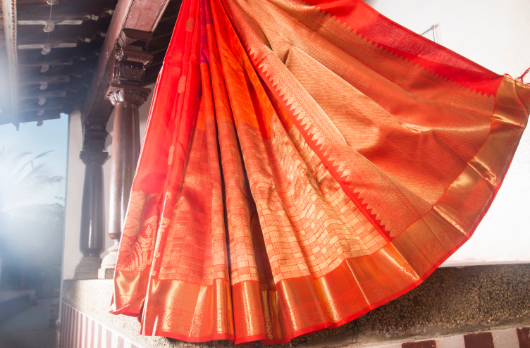 Every season has its colours!
Here are some that have grabbed the spotlight this wedding season.
Summers and Winters come and go, but wedding seasons are never-ending. This wedding season is dominated by some really rich and regal shades of red. Take a look at some of the celebrity weddings over the past year and you'll know what we're talking about! A red or maroon Kanchivaram with a golden zari is a great fit for the season.
If you like to take the road that's less but gracefully taken, consider a light-pink Kanchivaram with a golden bronze zari, or a gold Kanchivaram with a darker zari that gives off a regal radiance!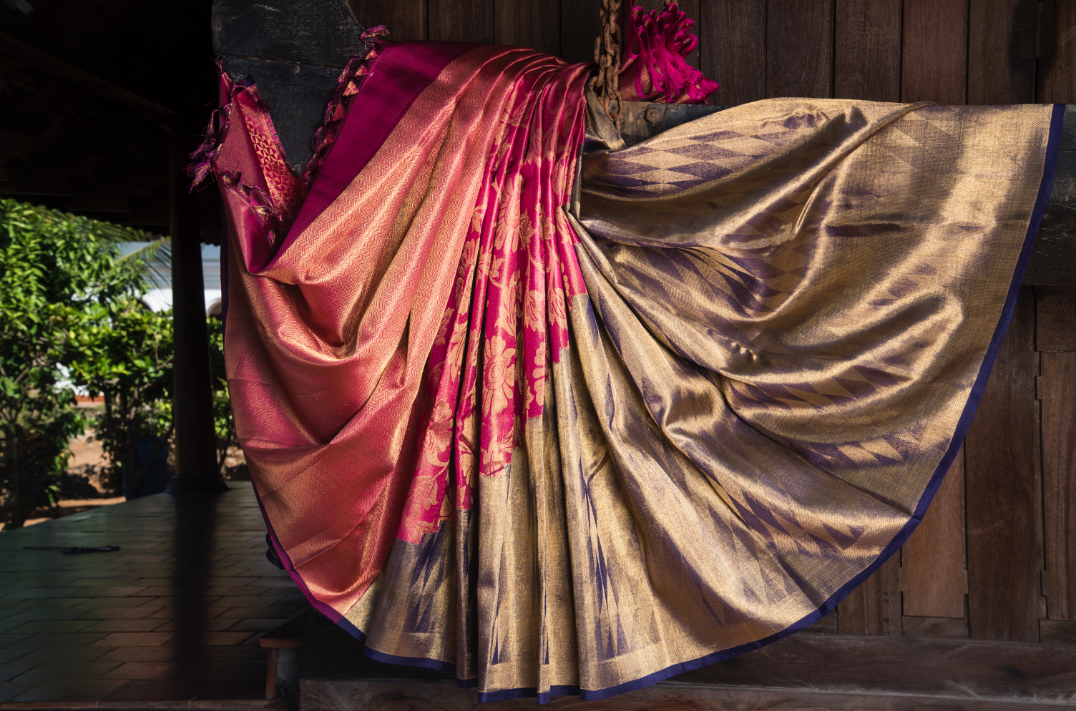 Colours that you will always love.
But more importantly, they will definitely love you back!
Deep bright blue Kanchivarams with a light golden or silver zari, paired with elegant jewellery with gemstones in contrasting colours, is sure to make you stand out on your special day! This shade of blue will simply never go out of style.
A yellow Kanchivaram with a red or blue border is another classic option that you can add to your wedding saree list! This is perfect for you if an authentic traditional look is what you're after for your day.
Finally, the colour that's sure to sweep everyone at your wedding
off their feet! The Pantone colour of the year.
The colour of 2020 is classic blue. It's bright and it's more than beautiful! A Kanchivaram in this shade, with a contrasting border, is sure to make you look unforgettably ravishing. This shade also pairs well with a classic silver zari, bringing out a regal, yet vibrant aesthetic!

And off you go! Happy Wedding Shopping Spree. And oh, don't forget to match themes with your groom. It's his day too!